iReporters define Occupy Wall Street movement
UPDATE: Since this article was published we've received more than 1000 responses to our survey. We hope we can delve again into the numbers and investigate trends such as how income level, age and geography play into the grievances of those who identify with this movement. Stay tuned.
iReport's Occupy Wall Street assignment has received more than 800 submissions from iReporters in 33 different cities in the United States. From looking at all those photos and videos, we've learned just how diverse the demands and grievances of protesters are. We've seen everything from anger over tax breaks for the wealthy, to demands like ending the wars and effecting campaign finance reform.
Yet by looking at the comments on iReports and articles on CNN.com, we see that many of our readers still don't know who the protesters are, or what they seek to achieve. Maybe if the self-appointed "99%" came up with a list of demands, it would help focus and clarify the movement.
But the protesters haven't yet, and might not for a while.
Yesterday, CNNMoney's Julianne Pepitone pointed out that Occupy Wall Street isn't about having a list of demands. Even the administrators of the more-or-less-official Occupy Wall Street website had to clarify that (at least currently) "There is NO official list of demands," after a user-submitted list that appeared on their forums got some negative attention.
So how do we satisfy CNN commenters' questions?
At CNN iReport, we're interested in telling stories as they're seen from the eyes of many. We decided to seek out the common themes in protests from different parts of the country by asking one question to iReporters supportive of the movement: "What are you protesting?"
Here's what we found out: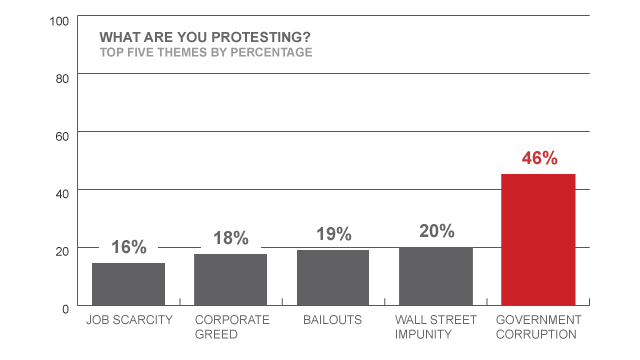 Out of the 75 responses to our survey, 46 percent cited grievances against corruption in the U.S. government -- a recurring theme that was more than twice as popular as any other.
Themes aligned with traditional liberal values such as tax breaks for the wealthy (15%) and growing economic disparity (13%) were also brought up by a significant percentage of respondents. Beyond those, respondents also pointed to more specific themes such as healthcare reform (12%), campaign finance reform (11%), and the outsourcing of American jobs to overseas labor markets (11%).
The most common emotion associated with these protests by respondents was "anger."
Although our non-scientific survey points to some interesting statistics, this growing protest movement continues to define itself as undefined. Its only goal seems to be increasing its traction among those dissatisfied with government corruption and the greed of the "1%."
Want to chime in? Take the survey!
As we wait for the demands of the protesters to solidify, we invite you to follow this ever-evolving movement through iReport's Open Story, and to contribute to our assignment if you are witness to any of its incarnations anywhere in the U.S.
Source : http://ireport.cnn.com/blogs/ireport-blog/2011/10/13/ireporters-define-occupy-wall-street-movement